Zippy 860W 2U Redundant Power Supply (G1W2-5860V3V)
FEATURES:

* TEMPERATURE RANGE: OPERATING: 0℃ ~ 40℃, STORAGE: -20℃ ~ 80℃
* HOLD UP TIME: 16 ms MINIMUM AT FULL LOAD & NORMAL INPUT VOLTAGE
* EFFICIENCY: >80% TYPICAL AT 115 VAC FULL LOAD
* POWER GOOD SIGNAL: ON DELAY 100 ms TO 500 ms, OFF DELAY 1 ms
* REMOTE ON/OFF CONTROL
* OVER POWER PROTECTION:110%~150%
* OVER VOLTAGE PROTECTION: +5V→5.7~6.2V, +3.3V→3.7~4.1V, +12V→13.3~14.3V;
* SHORT CIRCUIT: +5V, +3.3V, +12V, -12V, +5VSB
* OVER CURRENT PROTECTION: +5V→35~48A, +12V→77~105A, +3.3V→35~48A
* SAFETY: TO MEET UL, CUL, TUV, CB
* LEAKAGE CURRENT: 3.5 MA. MAX. AT NOMINAL VOLTAGE 250VAC
* EMI NOISE FILTER: FCC CLASS A, CISPR22 CLASS A
* WARMING METHOD: BUZZER SOUND, TTL, FAULT LED
*THE POWER-SUPPLY IS FOR CHASSIS-ASSEMBLY ONLY AND IS NOT ALLOWED TO BE OPERATED AS STAND-ALONE COMPONENT. FINAL ASSEMBLY HAS TO COMPLY WITH CORRESPONDING EMC- AND SAFETY-REGULATIONS.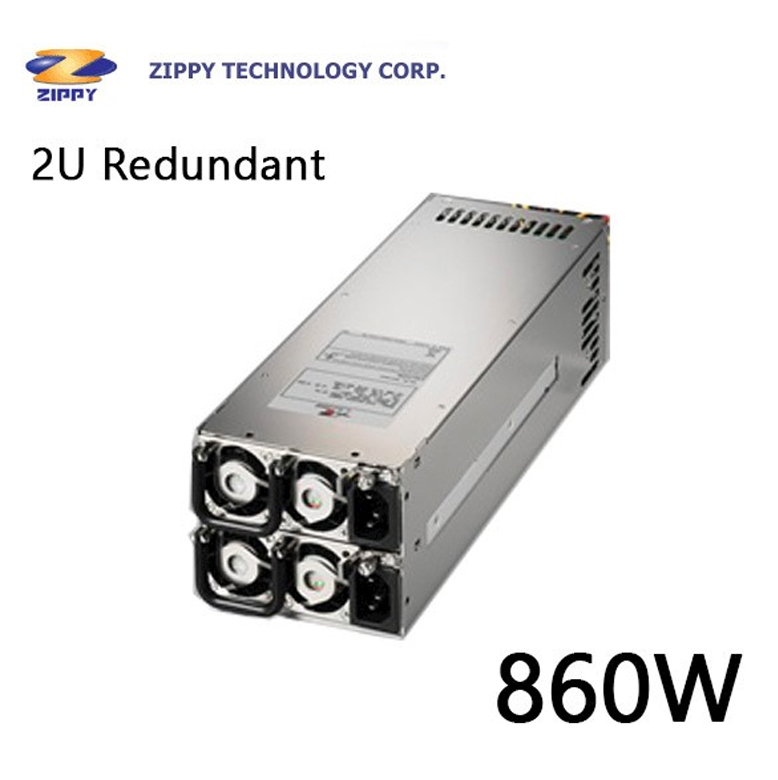 OUTPUT WATTAGE:
860W
BEST SOLUTION FOR:
Server ,Workstation ,Storage System ,IPC
DIMENSION:
300x101.2x84(mm)
11.81x3.98x3.31(inch)
INPUT SPEC:
VOLTAGE: 90V ~ 264VAC (WITH ± 10% TOLERANCE)
FREQUENCY: 47Hz ~ 63Hz
INPUT CURRENT: 13/6.5A MAX AT ANY LOW/HIGH INPUT VOLTAGE
INRUSH CURRENT: 60/80A @ 115/230VAC (25℃)
POWER FACTOR CORRECTION: 95% @ 110V, FULL LOAD
DC OUTPUT SPEC:
| | | | | | |
| --- | --- | --- | --- | --- | --- |
| Output Voltage | Output Current Min. | Output Current Max. | Regulation Load | Regulation Line | Output Ripple & Noise Max.[P-P] |
| +5V | 0.5 | 32 | ±5% | ± 1% | 50mV |
| +12V | 2 | 70 | ± 5% | ± 1% | |
| -12V | 0 | 0.8 | ± 10% | ± 1% | 120mV |
| +3.3V | 0.5 | 32 | ± 5% | ± 1% | 50mV |
| +5VSB | 0.1 | 3.5 | ± 5% | ± 1% | 50mV |
+5V AND +3.3V TOTAL OUTPUT MAX: 190W
TOTAL OUTPUT MAX: 860W