INTRODUCTION
SilverStone understands the trouble and headache some have when trying to get multiple SATA devices connected. To alleviate this, SilverStone developed a new generation of SATA power connector cables called the CP06-E to succeed the breakthrough CP06. By using the latest super flexible material, the CP06-E will fit to any SATA devices easily without excessive bending and stress on connected devices, even if the gap between SATA devices are slightly different than CP06-E! Besides 4-in-1 model, a second 2-in-1 model of CP06-E with shorter gaps will also be available. This is a great solution for users using adapters such as SilverStone™s own SDP08, where two 2.5 drives would need to be installed almost next to each other. Finally, just like CP06, two high quality 2200F capacitors are also included on CP06-E to provide stable voltage to all connected devices. So if you have a lot of SATA drives in your system, the CP06-E is a must buy for improving aesthetics and drive reliability.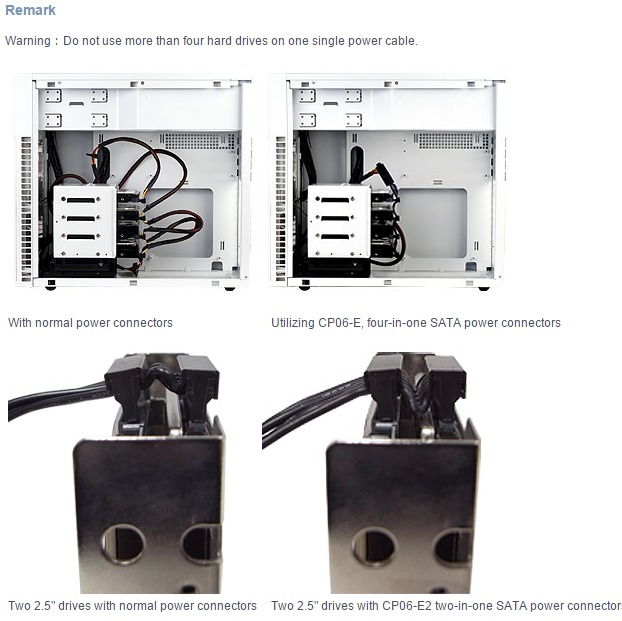 SPECIAL FEATURES

Continuous support for four or two sets of SATA drives and devices
Includes two 2200F capacitors for stabilizing +12V and +5V voltages
Great aesthetics with all black cables
Super flexible cable technology
Compatible with SATA optical and hard drives


Model No.
SST-CP06-E4
Color
Black
Connectors
One to four 90° angle SATA 15pin connectors(CP06-E4)
Length
60mm+43mm+43mm+43mm(CP06-E4)
Capacitor size
2200F
* Specifications are subject to change without notice.
* Specifications may vary.
* The product picture(s) is only for your reference, it may differ from the actual product.