Silverstone 700w SFX Modular Gold Power Supply (SST-SX700-G)
■ Support standard SFX form factor
■ Silent running 92mm FDB fan with 18 dBA minimum
■ All Japanese capacitors
■ High efficiency with 80 PLUS Gold certification
■ Class-leading single +12V rail
■ Strict ±3% voltage regulation and low ripple & noise
■ 100% modular cables
■ All cable with flexible flat arrays
After pioneering full featured, high performance SFX power supplies in 2012, SilverStone has continued refining the segment it has created. The SX700-G is yet another evolutionary step toward perfecting this small form factor power supply category. It is more powerful without growing in size to achieve unprecedented power density levels of 882W, the highest of any SFX or ATX PSUs released thus far. This increase in power density was achieved through more advanced engineering and component selection so rather than added noise as is the norm for upping wattage output in power supplies, the SX700-G remains just as quiet as lower wattage models thanks to the use of 92mm FDB fan. For connectivity, the SX700-G is equipped with connectors a wide variety of system configurations with SilverStone's famed short, flexible flat cables. Longer standard length cable set, the PP05-L is also available for purchase separately for those users wishing to use this PSU in larger enclosures.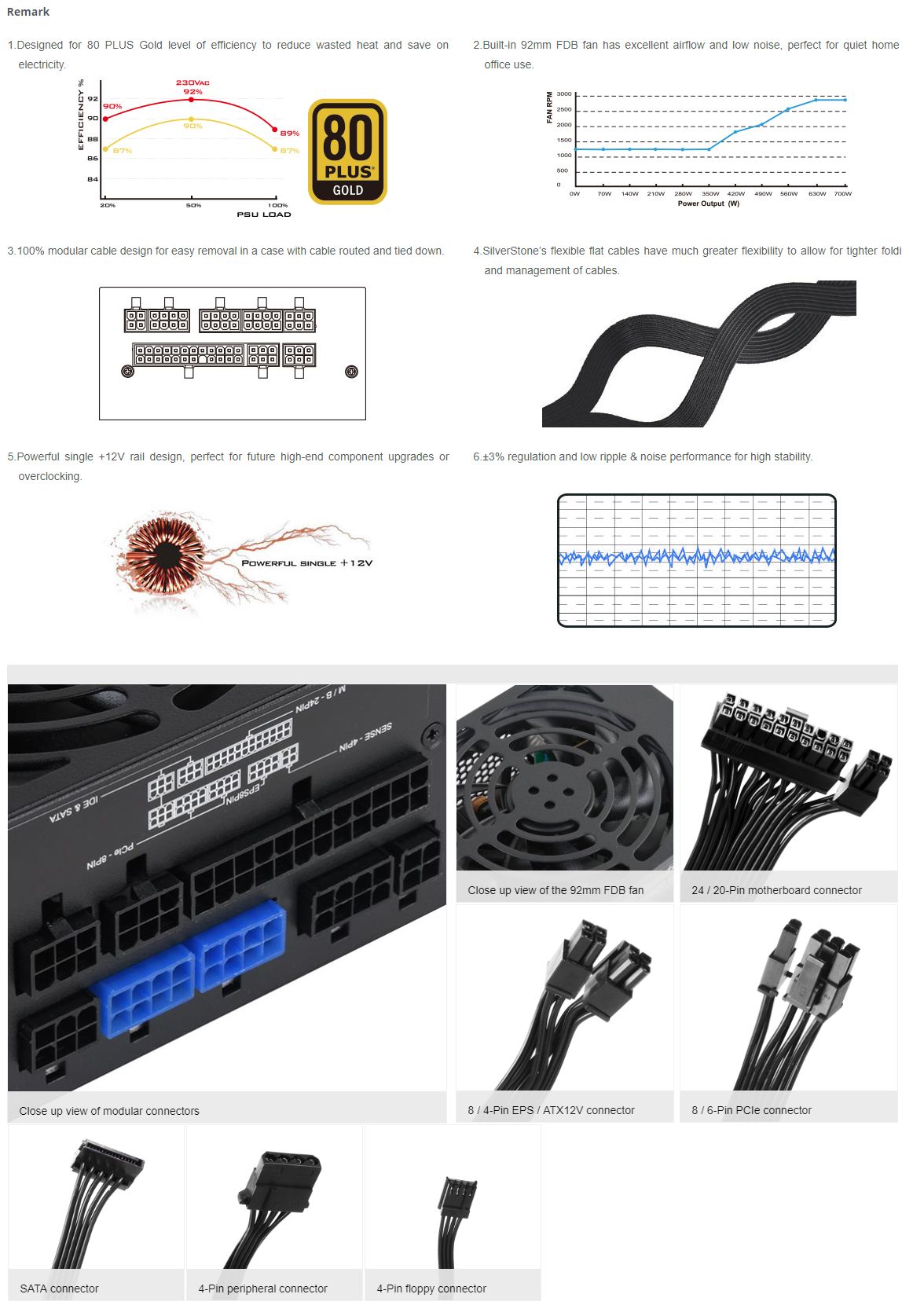 Specifications
Model No.

SST-SX700-G

Max. DC Output

700W

Power density

882W per liter

Load Range

+3.3V+5V+12V+5VSB-12VMax.(Amps)22A22A58.4A2.5A0.3APeak (Amps)/////Min.(Amps)0A0A0A0A0ARange (%)±3%±3%±3%±5%±10%Line Reg.(%)±1%±1%±1%±1%±1%Ripple(mVp-p)50mA50mA120mV50mV120mV
Color

Black(Lead-Free Paint)

Combined +3.3V & +5V

110W

Combined +12V

700W

Input Voltage

90V ~ 264V

Input Frequency Range

47Hz ~ 63Hz

PFC

Active PFC (PF>0.9 at full load)

Efficiency

87% ~ 90% at 20% ~ 100% loading

MTBF

100,000 hours

Operating temperature

0°C ~ 40°C

Protection

Over Current Protection
Over Power Protection
Over Voltage Protection
Short Circuit Protection
Under Voltage Protection
Over Temperature Protection

Connectors

1 x 24 / 20-Pin motherboard connector (300mm)
1 x 8 / 4-Pin EPS / ATX 12V connector (400mm)
2 x 8 / 6-Pin PCIE connector (400mm / 150mm)
2 x 8 / 6-Pin PCIE connector (550mm / 150mm)
6 x SATA connector ("300mm / 220mm / 100mm" x 2)
3 x 4-Pin Peripheral connector (300mm / 200mm / 200mm)
1 x 4-Pin Floppy connector (100mm)

Cooling System

Single 92mm FDB fan

Form factor
Noise Level

18 dBA minimum

Dimension

125 mm (W) x 63.5 mm (H) x 100 mm (D)
4.92" (W) x 2.5" (H) x 3.94" (D)

Weight

1.4 Kg

Certification

80 PLUS Gold

Other
● Specifications presented on this page contains most recent revisions and may differ from those printed on retail boxes or manuals.