Viper Xtreme 5 DDR5 Performance Memory

Viper Xtreme 5: The flagship DDR5 memory with professional-grade performance up to 8200MT/s

High-quality IC: Selected and screened for enhanced overclocking capabilities

100% hand-tested: Fully tested and tuned profiles for maximum performance

Heatshield design: Aluminum Viper-head style heatshield, better performance and aesthetic for your Xtreme build

Unlocked PMIC: Unlocked power to enable full performance for XMP and beyond

Support for Intel XMP 3.0 and RGB App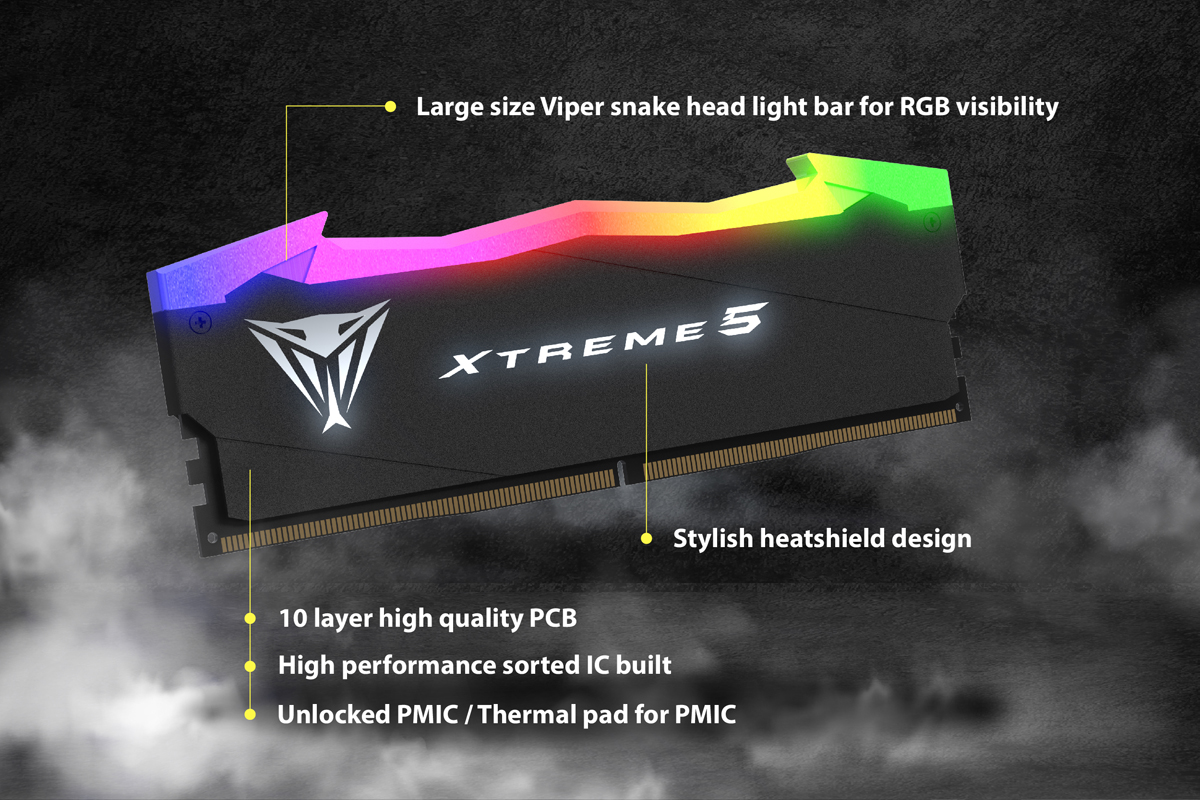 Enhanced Aesthetics and Superior Quality

Featuring a unique snake head shape, matte finish coating and large RGB lightbar, the Viper Xtreme 5 combines strong performance and a truly unique look gamers can't find anywhere else. Created from high-quality aluminum materials, our heatshield is designed to last and able to go the distance with extreme performance.


Higher Frequency Support

Through improvements to our internal clock generation and memory timing circuits, the Viper Xtreme 5 delivers up to a ridiculous 8200MT/s, achieving and supporting the highest data transfer rates and frequencies of any Viper DRAM in our entire catalog.


PMIC- Lower Power Consumption

The Viper Xtreme 5 is designed to operate at higher speeds with lower voltages without generating as much heat. This lower power consumption is possible due to the integrated high-quality PMIC which creates more room for overclocking without exceeding safe voltages and temperature limits. (Overclocking requires more power, so a high-quality power supply with adequate wattage and stability can help ensure stable and reliable overclocking.)



Intel XMP 3.0 Ready

The Viper Xtreme 5 supports Intel XMP 3.0 Ready overclock profiles.


Trustworthy Components

With On-die ECC, the Viper Xtreme 5 can correct single-bit errors and detect multi-bit errors, ensuring that data integrity, data accuracy and system reliability are maintained in the event of hardware errors or other issues in high-performance environments.


Customized-- RGB or Non-RGB

Elevate your rig's aesthetics with Viper Xtreme 5 DDR5 kit. Its dynamic RGB lightbar isn't just illumination – it's an artistic canvas. Sync lighting effects using Viper RGB Sync for a cohesive setup. Prefer Non-RGB? Choose sophistication with the variant. Unleash innovation, customization, and performance to redefine your gaming experience.