VE800
HDMI Extender

The VE800 HDMI Extender extends your HDMI display up to 60 m away from your HDMI source using two Cat 5e cables. It is equipped with HDMI (high definition multimedia interface) connectors and is capable of supporting DVI-D (Single-Link) equipment when used with a HDMI-to-DVI adapter, providing greater flexibility and installation options when integrating several home theater components.
Package Contents

1x VE800L (Local Unit) HDMI Extender
1x VE800R (Remote Unit) HDMI Extender
2x Power Adapters
1x Wall Mount Kit
1x User Instructions

Feature

Extends the distance between HDMI source and HDMI display
Uses Cat 5e cable to achieve long distance transmission
8 segment equalization adjustment switch
Extend 1080p by 40m; extend 1080i (HDTV) by 60m
Superior video quality 1920 x 1200, up to 1080p
HDMI (3D, Deep Color)
Supports Dolby True HD and DTS HD Master Audio
DDC compatible
HDCP 1.1 Compatible
Compatible with all ATEN HDMI switches and splitters
Data Sheet
Download Link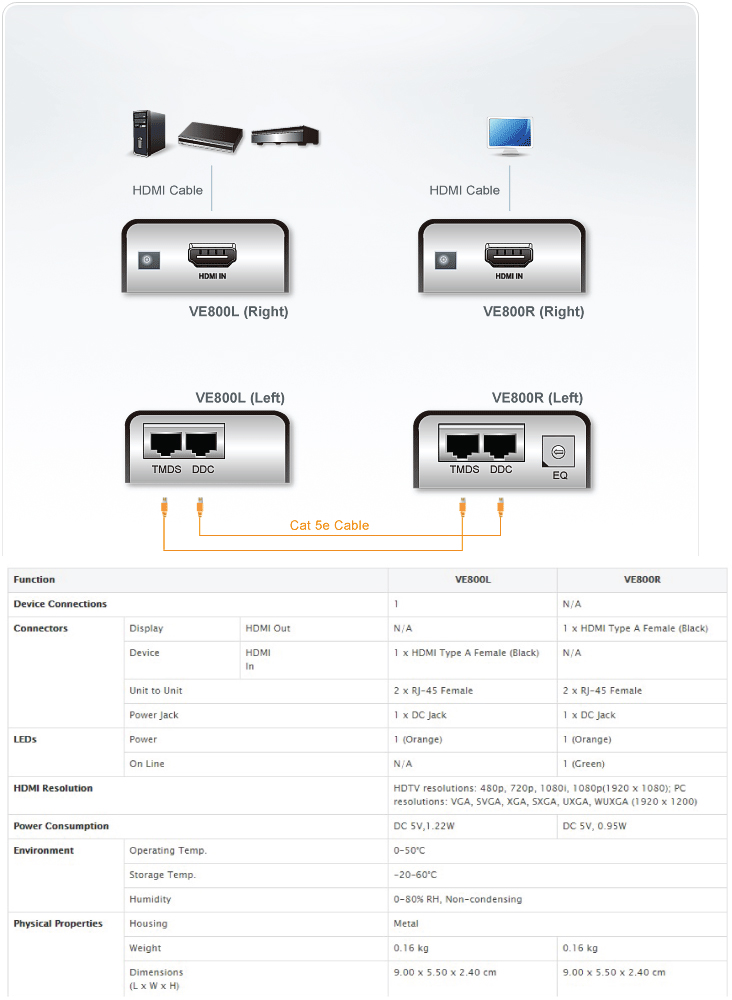 * Specifications are subject to change without notice.
* Specifications may vary.
* The product picture(s) is only for your reference, it may differ from the actual product.