Product condition: OPENED BOX
This item is in excellent, new or like-new condition with no or minimal wear, Depending on the manufacturer or supplier, this item is either covered by original manufacturer's warranty or three months standard warranty provided by MSY. This item may be missing the original packaging or protective wrapping, or may be in the original packaging but not sealed, but we guarantee the item is well-packed with sufficient protection during order collection or delivery. This item may be missing original or minor accessories but we will provide necessary components to make sure the major element(s) is/are fully functional.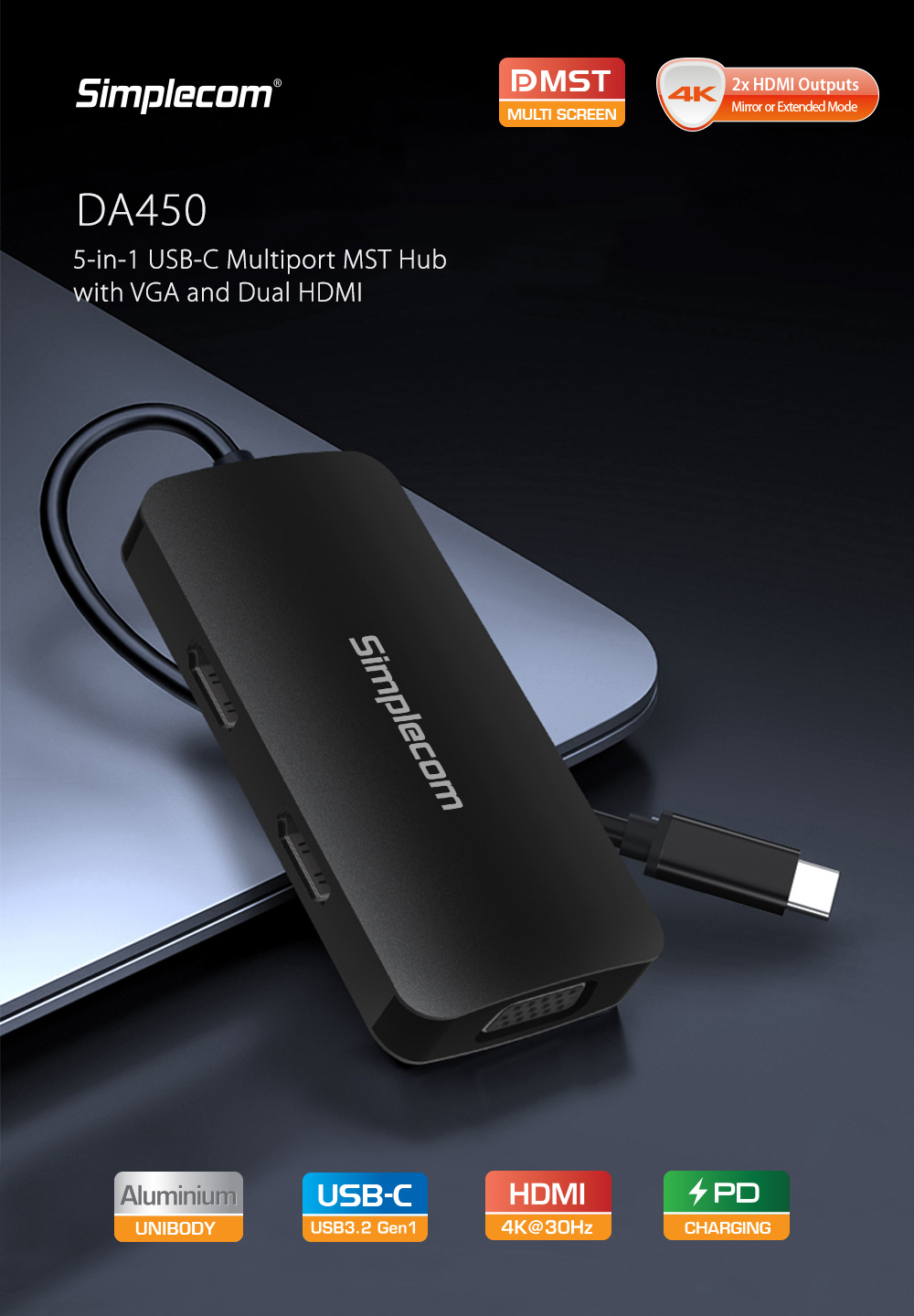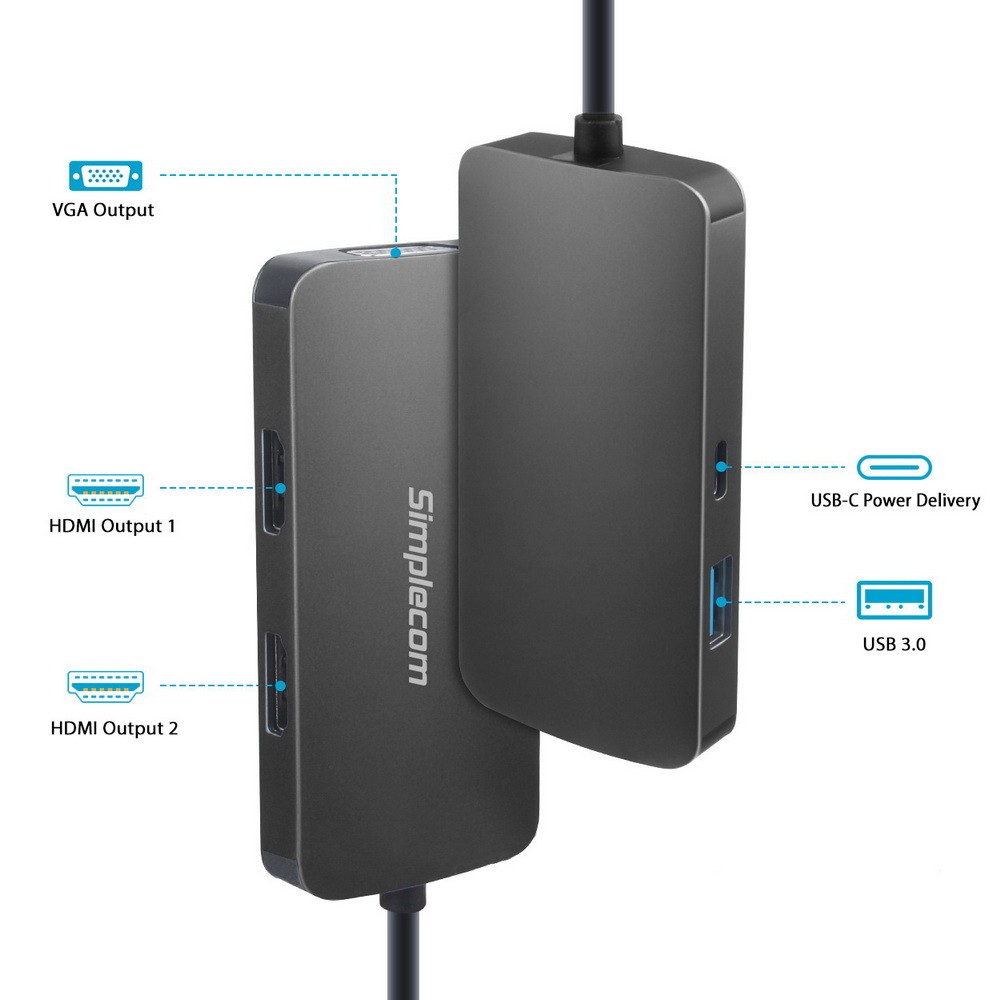 DA450 is a 5-in-1 USB-C multiport MST (Multi Stream Transport) Hub offers one VGA output and dual HDMI outputs. It allows you to connect 3 screens simultaneously and supports up to 2 extended screens. DA450 also supports Power Delivery up to 100W charging via the USB-C port and one USB-A SuperSpeed port for data connection, which supports data transfer rate up to 5Gbps.
Don't be restricted to the small screen on laptop, this adapter can significantly increase productivity by adding multiple screens to your laptop and ideal for multi-tasking. It's a great solution for work or home office to display independent content on extra screens, and makes multi-tasking easier.
Support MST (Multi Stream Transport) for mirror or extended screen mode

Connect 3 displays to your system through a single USB-C port

Supports up to 3 mirrored screens or 2 extended screens

Significantly increase productivity by adding multiple screens

HDMI supports Ultra HD resolutions up to 4K@30Hz (Single HDMI)

VGA supports Full HD resolutions up to 1080p@60Hz

Supports Power Delivery up to 100W charging via the USB-C port

USB-A SuperSpeed port supports data transfer rate up to 5Gbps

Plug and Play, no Driver or software required

Aluminum casing, durable and better heat dissipation

MST supports Windows only, MacOS supports one extended screen only


SPECIFICATIONS:
Material:

Aluminium

Interface:

USB-C Male

Connection Ports:

2xHDMI, VGA, USB-A, USB-C PD

HDMI Resolution:

Support up to 3840x2160 at 30Hz (Single HDMI)

VGA Resolution:

Support up to 1920x1080 at 60Hz

PD Charging:

1x USB-C Female (for charging only), up to 100W

USB-A Port:

1x USB-A Female (SuperSpeed 5Gbps)

Operation Temperature:

0 - 50°C

Cable Length:

10cm

Dimension:

9.1cm x 4.3cm x 1.6cm

System Requirements

Available USB-C port with DP Alt Mode (DisplayPort Alternate Mode) support Windows 8 or above for MST and 2 Extended Screen support MacOS does not support MST technology and will only support one extended mode Important

Note

· Before purchasing, please confirm the USB-C port on your device supports DisplayPort Alternate Mode (DP Alt Mode). Some USB-C ports only work for charging or data transfer, no video output function

· Screen resolution will be limited to 1080p when two HDMI monitors are connected

· Screen resolution will be limited to 1080p when VGA port is connected

· The USB-C Female port is for PD Charging only, not for data transfer

· Please connect power delivery adapter when power is not enough

· Don't recommend for charging iPad, tablet or other high power USB devices